10 Wall Decoration Ideas
Posted by ZEYNEP YENGI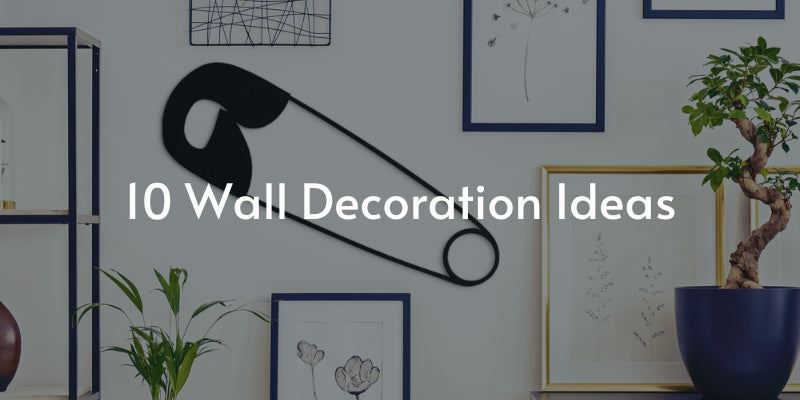 The first part that catches your attention in a space you first see is the walls of that space. So, wall decor accessories are the most practical way to add character and style to a place. Furthermore, there are hundreds of different wall decoration alternatives for every space, liking, and budget. As Liviqon, in this article, we will mention our wall decor accessories, ten beneficial wall decoration ideas, and fashionable wall decoration products that you can get inspiration for your spaces.
How can I decorate my room walls?
We care about pleasing and stylish-looking wall decors. To have stylish walls, as Liviqon, we will offer you beneficial wall decor product ideas. With our modern and elegant decor products, you can make your room look unique. If you want to turn straight walls into stylish centerpieces, you should check out the ten wall decoration ideas below. Regardless of your style, we will offer many alternatives to decorate your walls according to your personality.
Inspirational Things for Wall Decorations
Here are five stylish wall decor products that you can decorate your room walls.
1- Decorate your walls with flower motifs
Decorating your walls with flower motifs will help your room to have a more fresh atmosphere. Our product called ''3'lü Çiçek Seti'' will create a different atmosphere for the room with its stylish design and portable appearance. You can hang this product, which is made of metal, on your wall by using the hanger behind it. Their stylistic looks will increase the aesthetics looking of your room.
2- Decorate your walls with personal characteristics 
You can use the star map of your zodiac sign with Liviqon as your wall decor. With ''Burç Yıldız Haritası'' wall decor product, you can decorate your room following your personality.
3- Decorate your walls with different geometric shapes
By using our ''Mockup Set'' it is possible to make your room is looking more striking and modern. These posters contain various geometric shapes and are created by printing on photo paper of different sizes.
4- Get your walls talking with wall clocks
Wall clocks help you to keep track of the watch and decorate the walls in your room.
Create a sporty look in your room with our ''Life Of Music'' metal wall clock. The product is produced with 2 mm thick matte black metal material. This wall clock, which has a stylish appearance, can be used both indoors and outdoors.
5- Create a romantic atmosphere on your walls
Create a different style for your room with our wall decoration product called '' Love is Blind'' in our metal decoration series.
6- Decorate your walls with authentic motifs
We have a variety of wall decor designs for those who love authentic designs. With our product ''Rüya Kapanı'', you can change the atmosphere of your room and create a remarkable sitting corner.
7- Reflect your emotions on the walls with lettering motifs
You can reflect your feelings with lettering motifs in different styles and decorate your walls with original motifs. With our other products like our wall decor product that we call "Live and Let Live", you can carry the words that will motivate yourself on your walls.
8- Reflect your colorful personality with colorful posters
Your walls were decorated with colorful posters, besides your individual will be reflected on the walls.
You can decorate the walls with Liviqon products to have a unique look in your room.
9- The Power of the Mandala
Would you like to see the mandala motif preferred by many people on your walls? With our mandala motif products, you can change the style of your walls and create a new look for your walls.
10- The magic of different symbols
Our final bet on the best wall decor idea for your wall is symbol figures. These figures can be created as minimalist. Whatever might be the design, these figures look stylish for any space.
As Liviqon, we aim to offer you the best service with our wall decor products we have developed. Contact us for more information and ordering about our products!